Program/Project Management Training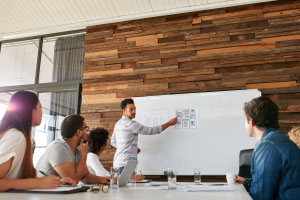 Life is about the development and execution of projects. Whether your field is architecture or information technology, successful planning involves a carefully crafted set of steps leading to planned and measurable goals. In today's fast-paced business environment, this is no simple task. As deadlines get tighter and budgets get smaller, organizations turn to their managers to do more with less.
Successful managers need to replenish their supply of practical skills, insightful strategies, and cutting-edge concepts to remain a valuable asset to their company. Built on the core PMBOK ® standards, our curriculum empowers you with the skills necessary to tackle the challenges facing your projects. Whether you are currently a project manager, a manager of others, or have the desire to become one, the essential tools are available through our project management training online.
Project Management Curriculum and PMBOK®
The Project Management Body of Knowledge (PMBOK®) Version 6 constitutes the official Project Management Institute (PMI®) standards and is used to define the minimum knowledge an individual must possess to be considered a candidate for the Project Management Professional (PMP®) accreditation. The PMBOK® is divided into 10 functional areas that must be managed during the course of a project:
Integration management
Scope management
Schedule management
Cost management
Quality management
Resource management
Communications management
Risk management
Procurement management
Stakeholder management
RG Freeman Group's project management seminars provide the education and training in one or more of these functional areas. PMBOK ® PDU: PMI® and other PMI® Registered Education Providers issue Professional Development Units (PDUs) for all formal learning activities related to project management. Project Management Professionals (PMPs®) are required to earn a minimum of 60 PDUs every 3 years to maintain their certification.
PMI® will keep PDU records for all PMPs® and PMI® members and will maintain quality standards for all PDU providers. For more information about this program, go to PMI's website or call 1-(610)-356-4600. Our project management courses are listed below:
Additional Advanced Courses for Senior PMs + Managers