Agile Training
The use of Agile management training as an approach to managing projects has been increasing dramatically over the last several years, and RG Freeman Group has kept up. Gartner had predicted that Agile development methods would be used on 80% of all software development projects.
Many companies face the dilemma of introducing, managing, and executing Agile methodologies as a potential alternative to Waterfall projects. A traditional project management approach can become ineffective. Executives may not be satisfied with the cost of completing projects, the time it takes to complete them, or their ability to meet dynamic expectations. At the same time, a company cannot just 'convert' to Agile. The management culture needs to be supportive. Special circumstances--like virtual teams and regulatory controls--may not seem consistent with Agile principles.
In order to do more than survive in this changing world, today's IT department and business owners need to join together to bring about agility and innovation. Standard practices for prioritizing features, estimating levels of effort, managing work, and maintaining quality control need to be revised. The business owner, project manager, business analyst, and software developer in particular must recast themselves in new relationships using unfamiliar tools and techniques. Many Agile methods may need to be tested, and then adapted to the company's environment.
Below is a sample illustration of all of the moving parts that typically take place on an Agile project team during a 2-4 week Agile Scrum Sprint: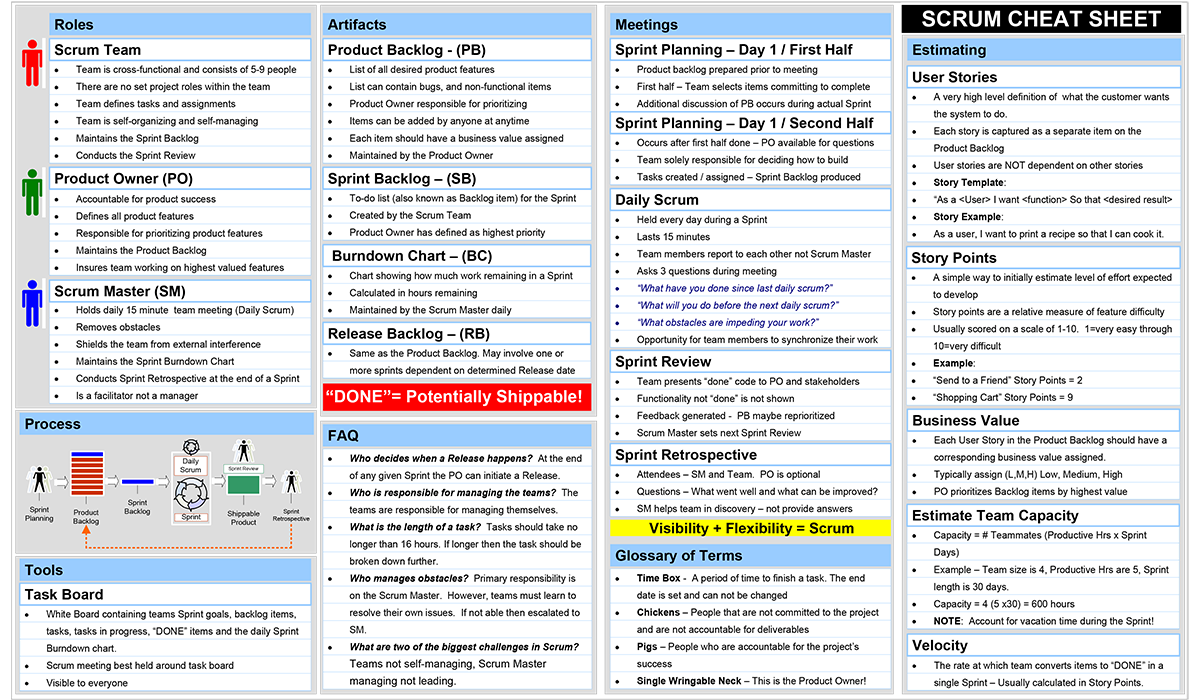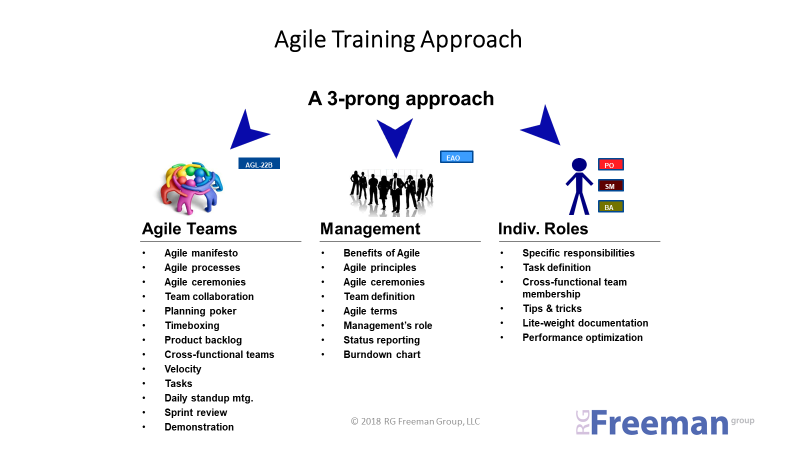 Agile Courses:
AGL-101 Overview of Agile - 1 day
This course aims at introducing its attendees to the core values, principles, and practices of Agile. This course discusses how to plan and manage Agile practices, not only those in Scrum. The course also goes into greater depth about all the roles and responsibilities on the team and not just the ScrumMaster and Product Owner roles.
The use of agile as an approach to managing projects has been increasing dramatically over the last several years. Gartner predicted that agile development methods would be used on 80% of all software development projects.
AG-BA08 Agile for Business Analysts -- 2 days
In this course, you develop your understanding about Agile business analysis and the role of the business analyst on an Agile team. You learn how business analysis on an Agile project is similar and different than on Waterfall projects. A number of business analysis techniques suited for supporting Agile teams are introduced alongside the various standards available to the community to help teams and organizations transition. Since few organizations are purely Agile, you also learn about delivery approaches that use a combination of practices from Waterfall and Agile and are also introduced to the important concept of business analysis tailoring--the key skill used to adapt business analysis skills to all environments--regardless of the delivery life cycle selected.
Added Bonus--Support for Pursuing Your IIBA®AAC Certification
Since demonstrating your Agile competencies is important when pursuing your next role, this course introduces the newest Agile analysis certification in the marketplace IIBA-AAC. The IIBA-AAC credential identifies your as someone who has mastered a firm understanding of Agile business analysis and obtained a few years of experience in the process.
You receive important information that defines the credential, explains the experience required to apply for the exam, the exam structure, its costs, and a thorough overview of what the exam covers and what you need to understand to prepare for it. You may not have considered obtaining an Agile certification before, but should you decide, this course provides all the information you need to start your studies.
AG-BA18A Agile for the Product Owner - 2 days
This course will teach the new product owner how to envision a product and drive out good requirements that can be prioritized to reduce project risk and maximize return on investment. We start from the beginning of a business need and derive the project and backlog of work starting from scratch. The you will be taught how to envision a product and drive out good requirements that can be prioritized to reduce project risk and maximize return on investment.
The course will start from the beginning of a business need and derive the project vision, roadmap, release plan, and sprint-ready requirements in the form of user stories. Vertical slicing, prioritization, estimation and right-sizing requirements will be thoroughly practiced through a series of exercises. Common pitfalls and techniques to avoid those pitfalls will be thoroughly explored with multiple hands on exercises. The objective of this class is to train you to be effective and maximize ROI for an agile Scrum project.
AGL-19A User Story Workshop - 2 days
Project failures are often due to poor requirements gathering, analysis and planning. Traditional requirements documents may not contain complete and accurate requirements due to rapidly changing business environments. Agile requirements gathering, by moving detailed requirements closer to implementation, allows for rapid response to change. This "User Story Workshop" will show you how to define and manage these requirements effectively as well as demonstrate alternative ways of documenting requirements and managing changes. These alternatives can allow for a less "heavy" process in projects that can benefit from quick changes in direction.
This course is beneficial to all members on an Agile team, but will add the most value for those in a Product Owner role or are a part of the development team and have focus on grooming the product backlog.
AGL-21A Non-Certified Scrum Master Workshop - 2 days
This 2-day course gives you hands-on experience with best practices for incorporating the customer into your daily plan, establish a cadence for the team, the importance that the team plays in the plan, and how much it means to commit to a goal. Lively lectures combined with insightful demonstrations and realistic practice exercises provide you with the competence and confidence to improve the quality of your product. You'll gain a thorough understanding of the challenges faced everyday by the technology team and how you, as a Scrum Master, can help overcome those obstacles. If you want to help your team be successful and use your coaching and facilitating skills to good use, you just have to take this course!
AGL-22B Agile Scrum Simulation Workshop -- 2 days
This 2-day workshop puts the Agile team through their paces by showing them how to conduct the 5 Scrum ceremonies while simulating key activities within a sprint--all while using their own project as a case study for the exercises. The Agile Scrum team gets to experience the leading Scrum methodology, via hands-on exercises and testing the basic premise and techniques behind agility.
Course Objectives:
Reduce the time it takes for Agile adoption by training the entire team with the help of an Agile expert
Avoid costly mistakes made by inexperienced Agile teams on the first project
Fast-track your project by developing your Scrum Board in the classroom
Agile-BA25 Managing the Agile Product Development Life Cycle -- 4 days
This 4-day course explores how adapting Agile values and principles improves product development within an enterprise. It contrasts traditional SDLC methods with the most popular Agile methods to set the stage for benchmarking performance. Then it introduces a comprehensive set of Agile techniques and practices and gives attendees the opportunity to simulate an end-to-end project while using them. Attendees discuss significant issues such as how to transition traditional IT roles (development, business analysis, testing, and project management), and how to work with new roles (ScrumMaster and product owner). The strength of this course comes from more than 2 dozen exercises and discussions that give attendees hands-on experience with practical situations. The complete product life cycle is covered from inception to release planning and deployment, from managing a backlog to demonstrating results, and from prioritizing requirements to changing them.
Learning Objectives Using Agile Practices and Principles:
Ensure your project delivers required functionality with less waste, and adds value to the business
Plan, manage, and close requirements at every development stage
Minimize project uncertainty and risk with improved estimating and planning
Create an environment of self-management for your team so that they may continuously align the delivered product with desired business needs, easily adapting to changing requirements throughout the process
Measure, evaluate, and communicate status based on working, tested software, while creating higher visibility and accountability into the process.